Is it interesting to play rummy online?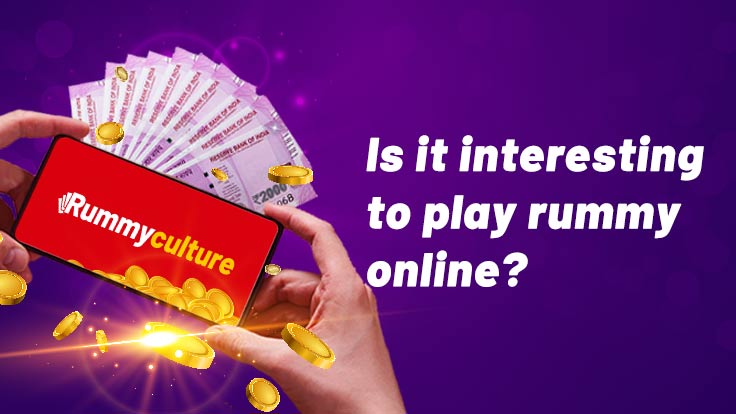 At present, India is the world's fifth largest mobile app industry. With advancement in technology, many new games are created and old ones such as rummy are making their digital presence felt. All you need is a smartphone to play and a good internet connection.
Rummy is extremely popular among all the card game players. These players are now gradually moving to online rummy because of the convenience and interesting game play that the online platform offers. This just does not stop at conventional rummy players. In fact, even those have never played rummy are beginning to take an interest in the online version.
Now, contrary to what many believe, it is very easy to play online rummy. All you need to do is to download RummyCulture's Andriod or iOS app and register for free. If you are a novice, then you can play practice games and free tournaments on RummyCulture to hone your skills. In case you are an experienced player, you can play cash rummy games and tournaments and win cash prizes daily.
Why Play Rummy Online:
Great variety to choose from
There are various types of rummy, and each variation of the game has its own sets of rules. One of the best things about playing rummy online is that you can play as many variations of rummy as you want. With all the features available online, it is hard for anyone to resist themselves from playing online rummy. Online rummy offers you more than what you get in a conventional rummy game, so why not try it now!
User Interface
RummyCulture with its clean and smooth user interface has won the trust of its players, making them come back for more every time.
Special tournaments
One of the best factors about playing rummy online is that you get to participate in exciting tournaments. These tournaments not only spice up the game play for the players but also offers cash prizes to the winners. With huge cash & bonus prizes and players competing from across the country, you have all the more reasons to play rummy on RummyCulture.
Bonus
RummyCulture offers the highest welcome bonus of Rs. 5250 to its new players.  The platform also offers cash prizes, bonus and much more to its cash players everyday.
RummyCulture – A Great option among Online Rummy Sites
Rummy is one of the most interesting card games. At RummyCulture, you can play rummy not only to enjoy the game but also to hone your strategies, making it one of the best online rummy sites. You can also go toe to toe with other rummy enthusiasts across the country to fine tune your strategies. With amazing features on the website and Android / iOS app, RummyCulture will make you love the game all over again. So what are you waiting for? Download the app now and start playing your favorite rummy games.