x
Why RummyCulture?
Built‑in features designed for an unmatched gaming experience
Fairplay Policy
Responsible Gaming
Withdrawal Policy
Why RummyCulture?
Built‑in features designed for an unmatched gaming experience
Steps to install
STEPS 1

Click on button and tap on

'OK'

STEPS 2

Once the file is downloaded click on

'OPEN'

and click on

'SETTINGS'

STEPS 3

Tap on

'ALLOW FROM THIS SOURCE'

and click on the mobile back button.

STEPS 4

Click on

'Install'

and start playing.
Nation's Trusted Rummy App
RummyCulture has worked extensively to build trust among its players by innovating around the clock and implementing cutting-edge systems to ensure safety for players' data and money.
We are an ISO certified, RNG & No-bot verified platform & have launched the 'Player Protection Protocol' (3P) for all of our users.
Guinness world
record holder
RNG certified
by itleabs
No bot certified
by itleabs
SSL secure
connection
ISO
certified
According to a recent online quantitative survey conducted by Unomer, India's leading market research agency, RummyCulture has emerged as the 'Nation's Trusted Rummy App'. With this recognition, we proudly cover another milestone in our pursuit of excellence and credibility when it comes to building trust for our players.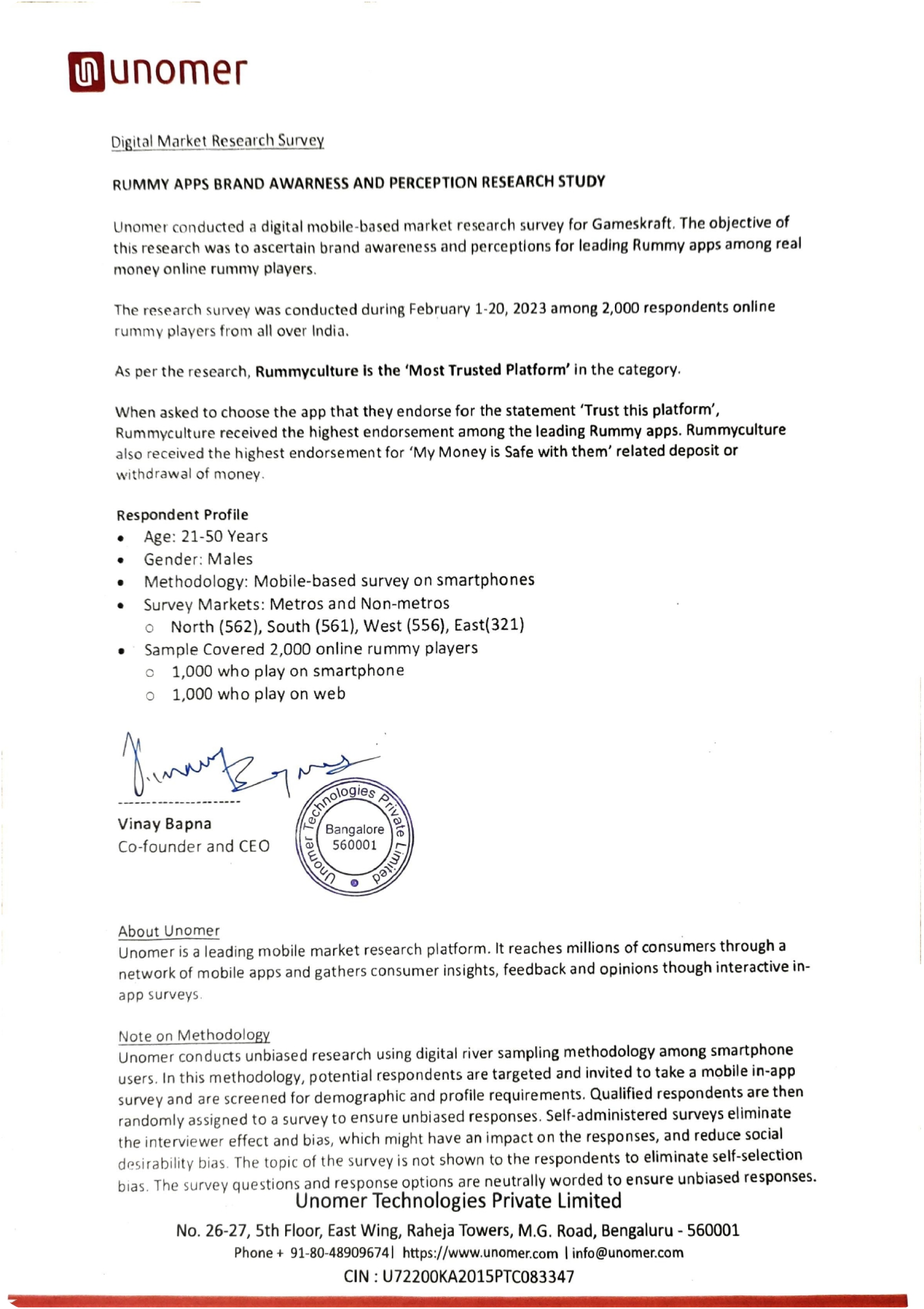 How did we achieve this?
In order to conduct this quantitative randomised online survey, a sample size of 2,000 respondents were selected - aged 21–50 years from both metro and non-metro areas, located in the North, South, East, and West zones of the country. The survey was conducted with a confidence level of 99% and a margin of error of less than 5%.
During the survey, respondents were asked to choose the app that they would recommend based on how much trust they place on the platform when it comes to their funds. Interestingly, RummyCulture received the highest endorsement among the leading rummy apps in India.
Get app link via SMS
83,321 players played in last 12 hours 🔥
95%+ withdrawals processed in less than 1 min ⚡
1,798,638 games played in last 12 hours 🔥
App link is sent to
83,321 players played in last 12 hours 🔥
95%+ withdrawals processed in less than 1 min ⚡
1,798,638 games played in last 12 hours 🔥